THE Liverpool skyline is under redesign.
Plans are currently before Liverpool Council for a $95 million, 90m-high development which would tower over the central business district from the southwest.
The proposal from Sydney developer Lateral Estate is for two 29-storey towers on a site at the corner of Macquarie St and the Hume Highway.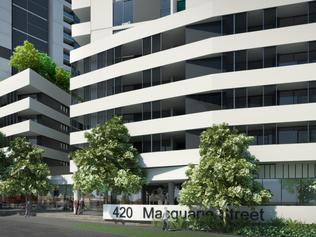 The development will be known as Skyhaus.
Known as Skyhaus, the development would have 424 residential apartments, commercial space and 487 above- and below-ground carparks.
It would be about three times higher than any existing building in the Liverpool city area.
A third residential block, six storeys in height, would also be included.
The proposal is before council planners but will require sign off from the South West Joint Regional Planning Panel before it can be built.
Lateral general manager Tony Johnson said he was "excited" plans were before the council and hoped development could begin before the end of the year.
Liverpool councillor Wendy Waller said the development would need to meet the "expectations" of the community.
"We've got parking issues in the city and our streets are already at capacity. Overdevelopment is not the main game," she said.
Mayor Ned Mannoun said the project received two submissions during a period of public exhibition.
He added Liverpool was attracting more interest from developers looking to build skyward to cater for the city's growing population.
"In recent months, a number of developers and major landowners have approached council officers about significant development proposals for a number of key strategic sites," Cr Mannoun said.
It is understood a proposal is also being drawn-up for a large mixed-use development on a site in Elizabeth St.